The Mālama Maui County Pledge asks visitors to respect the islands' culture, environment and community.
In 2020, The Maui County Council passed
Resolution 20-94
, known as "The Mālama Maui County Pledge."
The purpose of the resolution is to provide visitors with clear guidelines to demonstrate their commitment to appropriate, respectful and safe behavior when visiting any of the islands within Maui County.


The Mālama Maui County Pledge: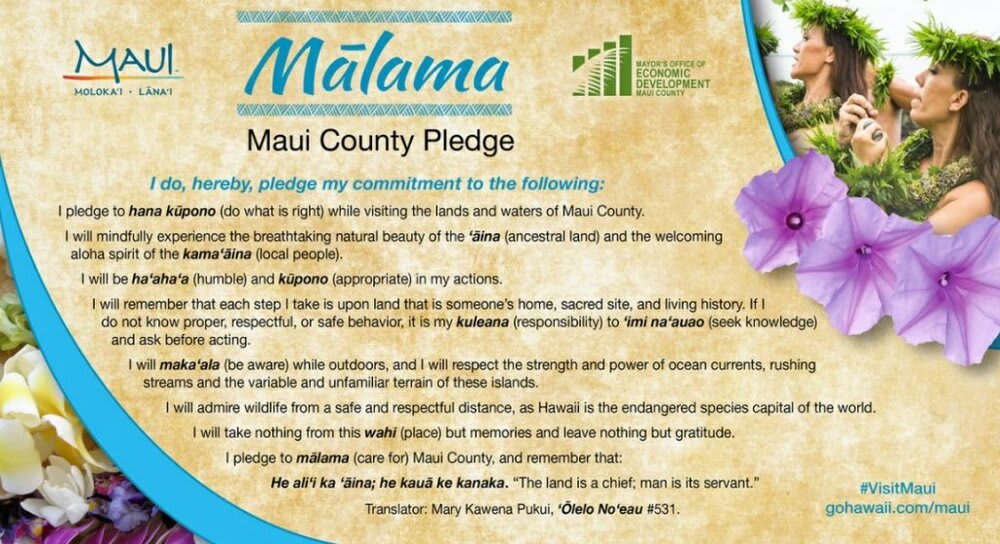 Image Credit: © Gohawaii.com / Mvra


I pledge to ho`oma`ema`e (do what is right) while visiting the islands and waters of Maui County.
I will mindfully experience the breathtaking natural beauty of the `āina (land) and the welcoming aloha spirit of its po`e (people).
I will be ha'aha'a (humble) and no`ono`o (thoughtful) in my actions.
I will remember that each step I take is upon land that is someone else's home, sacred site, and living history.
If I do not know proper, respectful, or safe behavior, it is my kuleana (responsibility) to 'imi na'auao (seek knowledge) and ask before acting.
I will be maka'ala (aware) while swimming and hiking, and I will respect the strength and power of ocean currents, rushing streams and the variable and unfamiliar terrain of these islands.
I will admire wildlife from a safe and respectful distance, as Hawai`i is the endangered species capital of the world.
I will take nothing from this wahi (place) but memories and leave nothing but gratitude.
I pledge to mālama (take care of) Maui County, and remember that: He ali`i ka `āina; he kauā ke kanaka. "The land is a chief; man is its servant."
Credits and Resources
Copyright NATIONAL ASSOCIATION OF REALTORS®.
Article reprinted
with permission. All rights reserved.