Many tourists and locals are now seeing Maui's ever-growing Axis deer population moving down from the mountains to the shores, island-wide. Unfortunately, the overpopulation of wild deer are causing ecological problems that increase exponentially every day. In this sustainable living article, we look at the history of axis deer and the current efforts to bring balance back to nature.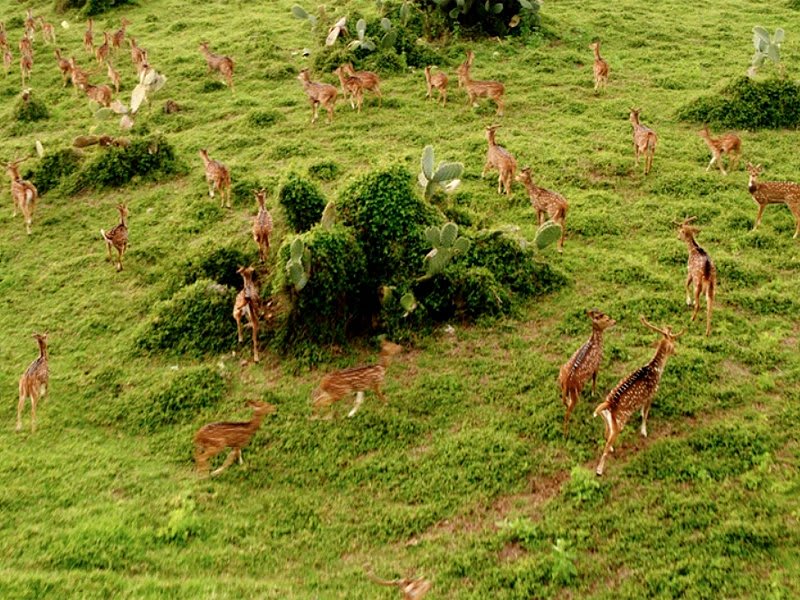 Image Credit: © Maui Nui Venison
What is the Axis Deer?
Axis deer (Axis axis), otherwise known as chital, are a species of deer that originate from India, Sri Lanka and Nepal. They are moderately-sized and have an orange coat dotted with white spots and white patches on their throats.
The History of Axis Deer in Hawai'i
Axis deer were first brought to the Hawaiian Islands from India in late 1867 as a gift to King Kamehameha V - starting out as a group of eight (three bucks, four does and one male faun) - and released on Moloka´i in 1868.
Some were moved to O`ahu before 1898 and some to Lana`i in 1920.
Axis deer were then eventually released on Maui in 1959 to increase the hunting opportunities, where the population started to rapidly increase by 20-30% every year.
As a consequence of their evolutionary history with large predators, many axis deer have very high reproductive rates, causing rapid population growth as there are no natural predators on the Hawaiian Islands.
By some estimates, there are now around 60 - 100,000 axis deer on the island, with the majority in Upcountry Maui.
Their population threatens to soar to hundreds of thousands, compromising the island's open space and causing exponential ecological problems if they aren't managed effectively.
The Ecological Problems
The impact of being out of balance with nature might be hard to notice on a global scale, but in Hawai'i, it can be felt almost immediately.
Lacking any large native herbivorous mammals, the unique native flora of the Hawaiian Islands never needed to evolve to produce thorns, spines or toxins to discourage herbivores, making them especially highly vulnerable to damage, and potential extinction, by the browsing and trampling of axis deer.
Not only this, yet the axis deer also cause major damage to our local farmer's agricultural crops and native and ornamental vegetation through browse and bark stripping and cause erosion.
From Invasive Species to Sustainable Food Source
When Covid-19 first arrived worldwide and to our Hawaiian island shores in 2020, numerous other issues then became increasingly apparent, including the islands' dependence on importing foods from other locations around the World - placing the community in a vulnerable position, especially in regards to urgently needing to re-assess how we sourced our food as a small island and minimizing the further spread of disease through shipping.
Forced to look at more sustainable solutions and with an abundant overpopulation of deer that needed to be addressed to protect our delicate Hawaiian ecology, Maui Nui developed the
Holo ʻAi Program
, a fresh venison delivery program, as a direct response.
Harvested through
mindful, stress-free methods
backed by the USDA and working together with other major local partners - including the Hawaii Food Service Alliance (HFA), the Maui Food Bank, Hawaii Food Bank and Aloha Harvest to name a few (who helped store, move, cook, and share venison) - Maui Nui was able to donate and distribute over 42,000+ lbs of venison and 100,000+ meals into our local Maui island community.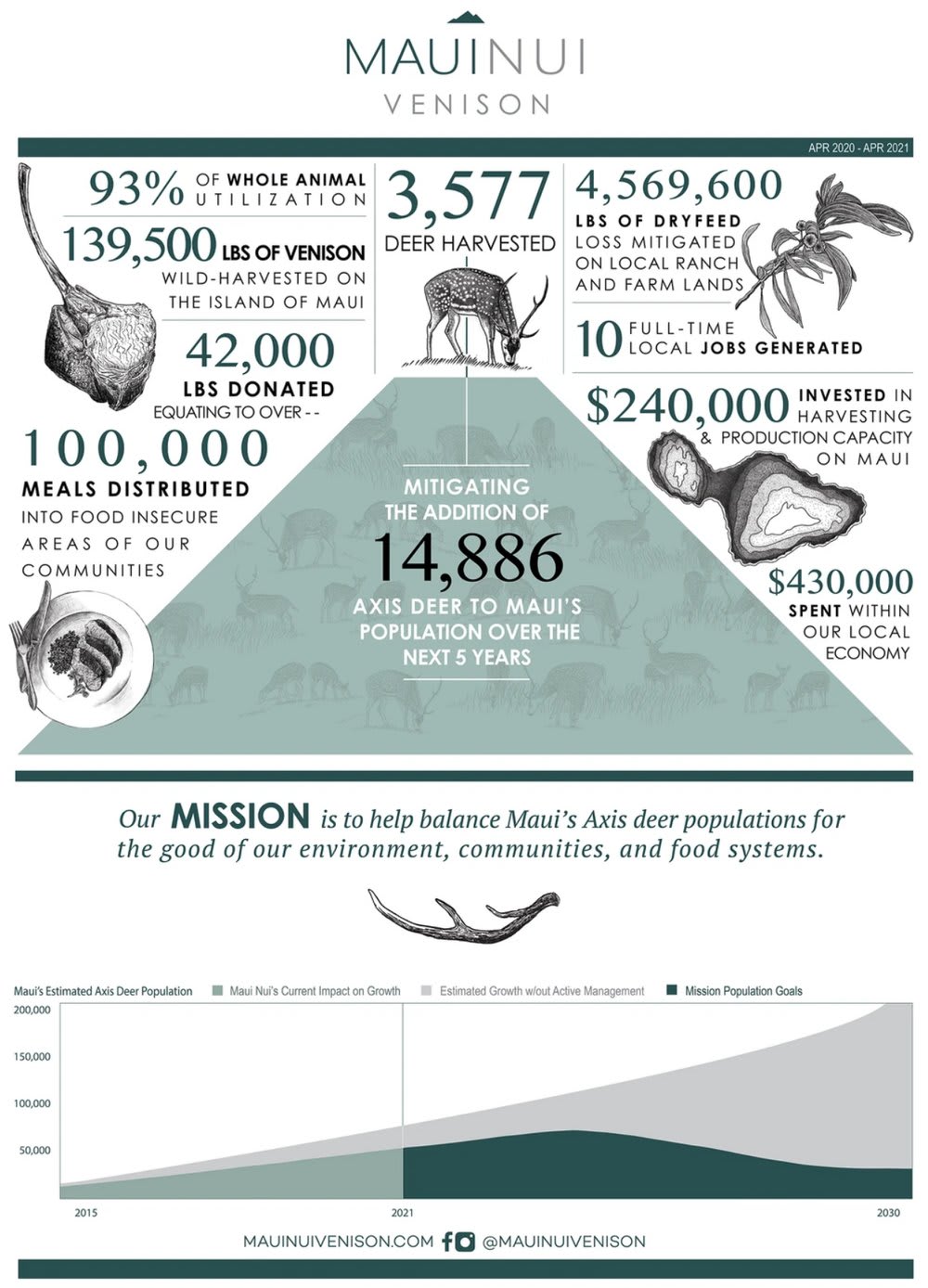 Maui Nui Axis Deer Impact Diagram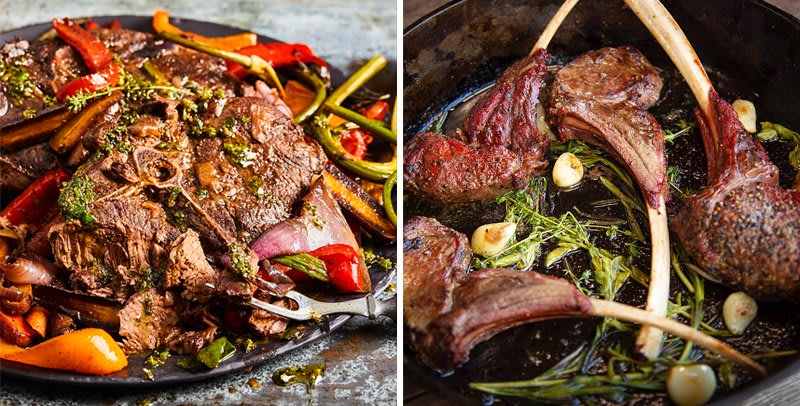 Image Credit: © Maui Nui Venison
Due to the success of the Holo ʻAi Program, the axis deer then went from being perceived as just an invasive nuisance to a saving grace and opportunity as a healthy and viable local food source, that could protect our island communities survival long-term - far beyond the effects of covid - by building more resilient, independent food systems that would increase our islands sustainability and benefit our local economy and environment.
Now that it has been a full year since Maui Nui launched their Fresh Venison delivery program in the earliest weeks of Covid nationwide lockdowns, they will now be extending the Holo ʻAi Program indefinitely and making wild venison more accessible to the Maui community through their
online shop
, including fresh venison meats, curated boxes, jerky sticks and bone broths (not only is wild venison a high-quality protein, yet also includes complex nutrients such as omega 3 fatty acids, iron, riboflavin, niacin, vitamin B12 & vitamin B6).
For Maui Nui, the Holo ʻAi Program was not born out of a need for charity, but out of a critical need for change to more sustainable island living and a return to thriving in balance with nature.
Credits and Resources
Copyright NATIONAL ASSOCIATION OF REALTORS®.
Article reprinted
with permission. All rights reserved.