As a Committee Member for REALTORS® Association of Maui, Dave Futch helped to organize and raise over $11,000 for Scholarships that benefit the college-bound Maui High School graduates at the Annual Charity Walk event on Saturday, May 11th.
The Annual Visitor Charity Walk is one of the largest single-day fundraising events in Hawaii, run by The Maui Hotel & Lodging Association.


The Charity Walk event provides an opportunity for over 100 of Maui's various non-profits to gather and raise money, all whilst having a fun-filled morning of exercise, good food, great prizes and fabulous entertainment.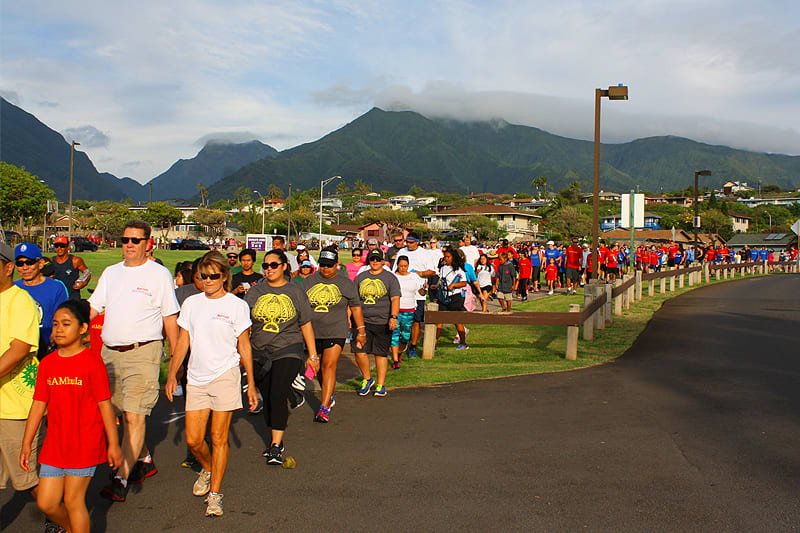 This year, over 2,400 walkers gathered at the War Memorial Soccer Field in Maui on Saturday, May 11 to raise funds for their local charities – one of which is the REALTORS® Association of Maui (RAM).


Since 1989, the REALTORS® Association of Maui has awarded $620,000 in scholarships to Maui County students pursuing their goals of higher education, as part of their 'Presidential Scholarship Fund'.


As a RAM® Committee Member, Dave Futch was responsible for helping to organize their first annual participation in the Maui Charity Walk, to be a Fundraiser and Team leader.


"After serving on the Presidential Scholarship Selection Committee for the past 5 years, and after reviewing so many of the scholarship applications, I am moved to take whatever steps I can to help these amazing people get to and pay for college." he said.


Whilst, an impressive combined total of $1,123,209 was raised at the Annual Charity Walk for the various local charities – the REALTORS® Association of Maui managed to organize and raise over $11,000 for the 'Presidential Scholarship Fund' to help college-bound students.

"The event was not just productive (we hit our goal of raising over $11,000 – much of which is matched by the Charity Walk organization) but it was also fun.


Walking the route, gave us time to talk about the students we provide scholarships to and their futures and to bond with like-minded individuals.


The awards ceremony was terrific. The hotels provided lots of wonderful and free food and the prizes for the top fundraisers were well received." said Dave.


Additionally, Dave notes "I hope that the participants know that their efforts and donations are hugely appreciated and that others are encouraged to have fun with us, to join our ranks in the next Maui Charity Walk and feel the joy of "fun-raising".


Mark your calendar for next year's Visitor Industry Charity Walk – Saturday, May 9, 2020.
Credits and Resources
Copyright NATIONAL ASSOCIATION OF REALTORS®.
Article reprinted
with permission. All rights reserved.