Looking To Buy a Home and New to the Whole Process? Take a Look at Our 8 Steps as a Guideline to Buying a Home With Local Maui Real Estate Expert, Dave Futch.
Navigating the home-buying process can be challenging, yet it becomes much easier if you have a plan and a clear path forward. This Step-by-Step Guideline to buying a new home with Dave Futch ensures the buying process is tightly managed from day one for the best possible outcome for you and the seller.
Step 1. Determine Your Budget
You need to know how much you can afford to purchase a home, based on your personal finances. A good way to do this is by tracking and having a good credit score. The better your score is, the easier it will be for you to get a loan. Not only this, yet you also need to have a down payment saved up ahead of time. Generally, buyers are expected to put up between 5 and 20% of the price of a new home as a down payment.
Step 2. Have a Clear Vision
Long before you put in an offer on a home, its a good idea to first have a clear vision and goal of what you want and need. Your vision can include all the things that you absolutely must have, things you feel may be nice to have and also what you don't really need.

Not only this, yet its important to have an idea of what areas you want to purchase in and monitor the condition of the market ahead of time. Pay special attention to the length of time that most homes in your price range stay on the market and if there are any big shifts in the asking price.

Writing down and having a clear vision for your ideal home and what areas you want to purchase in will make things a lot easier for you and Dave.

Locations in Maui
Maui can be divided in to many different community location zones, each with their own unique attributes, characteristics and weather conditions. Please click on the links below for more information on each of the different locations.
South Maui
includes the towns of Maalaea, Kihei, Wailea and Makena.
West Maui
includes the towns of Lahaina, Kaanapali, Honokowai, Kahana, Napili and Kapalua.
Central Maui
includes the towns of Wailuku and Kahului.
North Shore
includes the towns of Paia, Spreckelsville, Haiku and Huelo.
Upcountry Maui
includes the towns of Makawao, Olinda, Kula and Ulupalakua.
East of Maui
includes the towns of Hana and Kipahulu.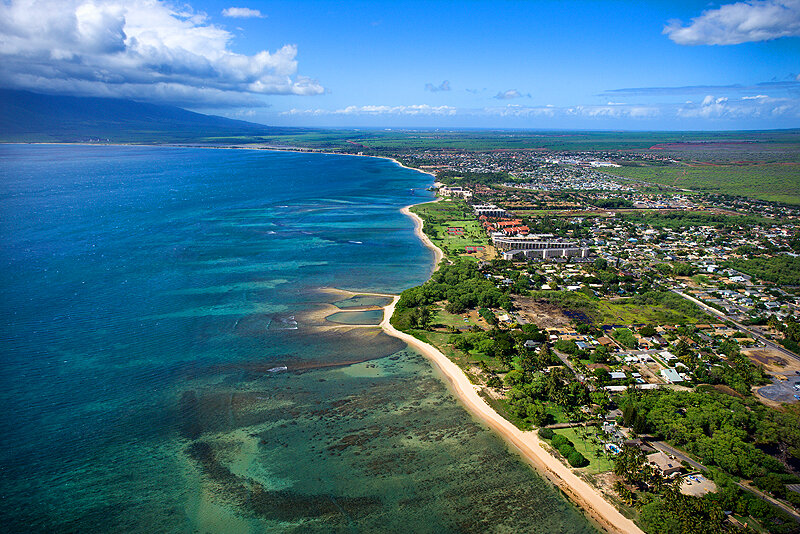 Step 3. Get Pre-approved on a Home Loan
Whilst knowing your budget helps, it's important to get pre-approved for a home loan prior to looking at potential homes to purchase to help determine a more specific number.

This will make the buying process simpler, less stressful and you will know exactly what your budget will be, so you can stay within your financial means.

In order to get pre-approved for a home loan, you will have to speak with a lender and provide them with some financial information, including your debts and assets.
Step 4. Search for a Home
Once you know how much you can actually afford and have your pre-approval information in hand, you can begin to search for a home among listings in your area of choice with Dave Futch. Dave can help you find your ideal home and facilitate negotiations between you and the sellers, to fit your budget and meet your needs.
Step 5. Make an Offer and Negotiate
With the help of Dave as your representative agent, you can determine a fair price to offer the sellers of a home in which you are interested and negotiate the deal accordingly. Dave has over 26 years experience in the real estate industry on Maui, so he knows a lot about the housing market and the rules that apply to home offers, to help you negotiate the best deal in your budget so everyone is happy.
Step 6. Home Inspections
Hire a professional home inspector who will closely inspect electrical plumbing, roof, appliances, etc. and provide a report that indicates photos and descriptions of and deficiencies discovered.
Some types of inspections are outside of his scope of services, such as irrigation, cesspool, septic or sewer, solar hot water systems, solar electric systems.
You may decide to hire experts in various fields to conduct these inspections.
The fees for all inspection reports are usually your responsibility as the Buyer of the home.
Termite Inspections
Typically, you select the company and the Seller pays for the inspection and remediation if indicated.
Association Documents
If your property is in a condo or within a subdivision there will be association documents the Seller will need to provide.
Final Walk-through
Several days prior to the close of escrow you will conduct a final walk through either by yourself or with the help of the Home Inspector. The purpose is to confirm that the property is in the same condition as when it was inspected plus any repairs that were rectified and approved.
Step 7. Secure Loan and Sign Documents
After the inspection and the appraisal of the property, you can then secure your loan with a bank or lender.
You will work with your lender and Dave Futch to ensure that all of the relevant paperwork for your purchase is in order. Escrow will provide opening documents shortly after opening escrow and a final set nearer to closing. Ask Dave if you want him to sit with you during the final signing.
Ready to Buy Your New Home?
If you have any questions about the process of buying a new home or are ready to start searching, please feel free to Get in Touch with Dave Futch at 808 280 9600 or via email at
[email protected]
, he'd love to hear from you!
Credits and Resources
Copyright NATIONAL ASSOCIATION OF REALTORS®.
Article reprinted
with permission. All rights reserved.