Your home is a major investment. If you are one of the many Americans who moved over the last several years or are planning to buy a new home soon, you might be wondering how you can protect your asset. Luckily, smart-home features offer many layers of protection for your home and your family.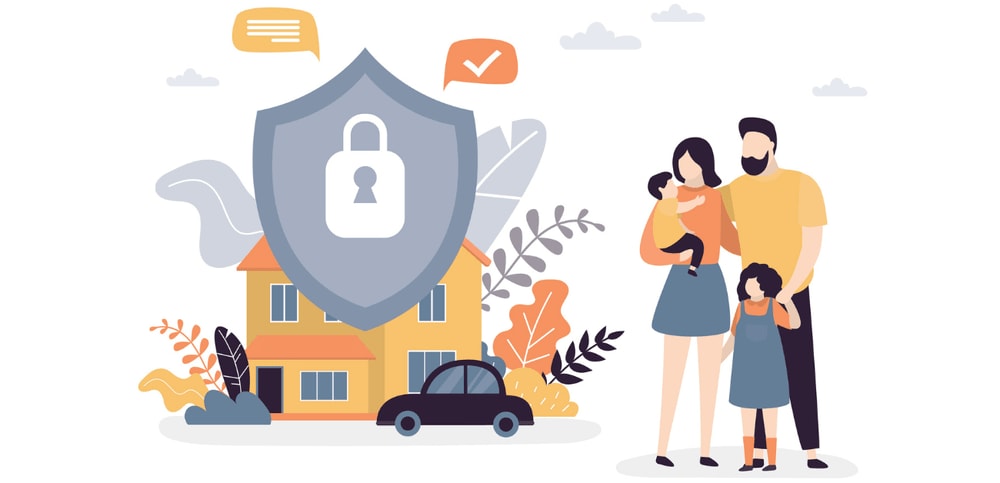 New Locks
It doesn't matter if you've purchased a home in an established neighborhood or a newly built home. Changing the locks is essential for safety. If you've ever wondered whether you remembered to lock your front door, or if you plan to have work done on your home and want to better control when workers come and go, consider installing connected
smart locks
. These locks are a simple home upgrade, convenient and intuitive. You can control them remotely and let in trusted visitors without needing to hide a spare key.
Video Doorbell
In today's delivery-first world, we receive more packages than ever. Let's not forget visitors, salespeople, and the like. Nearly all of us can remember a time that the doorbell rang and we really wanted to know who was there before we got up to answer it. A
video doorbell
allows homeowners to verify the person at the door via live video on an app such as Alarm.com, Ring, or Google Home. Many video doorbells record footage as well, so if you do ever run into an issue, you can review that footage.
Smart Thermostat
A
smart thermostat
can make the home more energy-efficient and helps save on energy costs immediately by knowing exactly when people are home or not and adjusting accordingly. Smart thermostats are also intuitive, which means you can save on energy costs without a second thought. Let's say, for instance, a window is left open on a cool fall day and the air conditioning is on. Smart thermostats can sense the temperature difference and adjust it as needed.
New Blinds or Window Treatments
Upgrade the home's ambiance and privacy with window treatments or blinds, especially for bedrooms and other areas that need more privacy. Blinds can also help insulate rooms from drafty windows and keep rooms warmer during the winter months. Smart blinds can be controlled with a remote control or a cell phone, and you can set times for them to open or close automatically.
Fire Extinguisher
It's a good idea to have several fire extinguishers handy around the home. Having one of these potentially life-saving devices—and knowing how to use it—could make a huge difference. The number of rooms and stories in the home will determine the number of fire extinguishers you may need and where to place them. Make sure to
review this safety information
so you're prepared.
Connected Smoke Alarms
Smart smoke alarms
throughout your home work together to alert everyone at once, no matter where people are in the home. A smart system that includes smoke and carbon monoxide detectors can also contact the authorities immediately. Since these systems are connected to an app, you can see where the danger is located within the home so you can adjust your family's escape route if needed.
First-Aid Kit
Pick up the first-aid kit before the unpacking or renovations begin in case there are any bumps or bruises along the way. First-aid kits can simply be stored once the household is unpacked. As a general rule, bandages, compresses, antibiotic ointment, and over-the-counter pain relievers are useful in the kit.
Toolkits
It's a rite of passage for every homeowner to buy a toolkit, and in a world where everything exists on YouTube, simple projects are usually doable for most people. A toolkit equipped with the essentials gives you the flexibility to get the job done on your own time and in the way you'd like it done.
Flashlights
Does the power ever go out at a convenient time? You don't want to find yourself in the middle of a power outage before you remember you need a flashlight. Buy more than one, and keep them in easily accessible areas of the house. That way, you don't have to waste time looking for one in the dark. You'll also want to keep extra batteries in nearby places.
Surge Protectors and Smart Plugs
If you've ever lost a trusted appliance or video game console from a lightning strike, you know the pain of not using a surge protector. They're affordable and easy to use, and worth the investment since they protect some of your most-used and reliable electronics.
Go a step further by
installing smart plugs
. They allow you to control virtually any electronic device plugged into them, including lamps, remotely. Additionally, devices like TVs, game consoles, and coffee machines typically draw energy even when turned off if they remain plugged in. Smart plugs eliminate much of that wasted energy. Use the Alarm.com app or a voice-activated app to schedule them to turn off at night.
Motion Sensor Lights and Video Cameras
Inevitably, you'll have to take out the trash one evening or walk outside to get the mail at night. You might think about installing motion-sensor outdoor lights for safety and convenience. Suppose you want to keep an eye on your home, even when you're not there. In that case, you might also consider installing connected home
video surveillance cameras
, which will allow you to see exactly what's walking through the yard or up to the front door—whether it's a critter or a more serious intruder.
Outdoor Storage Protection
Outdoor space might be a large part of a home or renovation investment, and there are ways to keep the lawn mower, grill, or boat safe. Specialized
outdoor contact sensors
work with a connected home security system to protect free-standing structures. When attached to a gate or shed door, these rugged sensors send an alert in the event of movement, giving you peace of mind knowing your outdoor items are secure.
Connected Home Security System
The latest
smart-home security systems
don't just offer peace of mind; from the day you install them, they can also provide several of the above-listed safety features with one system. Whether it's wireless contact sensors for doors and windows, video cameras with alerts and live streaming, safety devices like connected smoke detectors, or a smart water valve that provides alerts and shutdown measures to protect against freezes, leaks, and bursts, a smart security system protects and manages the entire home.
Credits and Resources
Copyright NATIONAL ASSOCIATION OF REALTORS®.
Article reprinted
with permission. All rights reserved.