13 Best Places to Picnic in Hawaiʻi
From botanical gardens to quiet beaches, these spots are perfect for eating outdoors.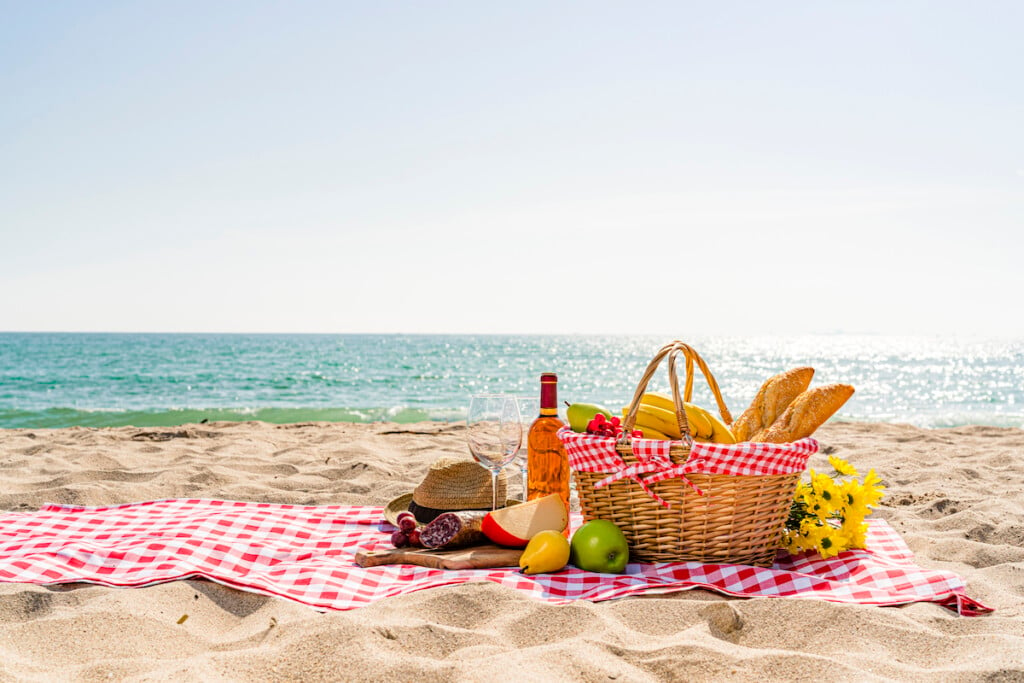 It's summer, a time when eating outdoors in the Islands is practically mandatory.
The days are longer, the nights cooler and the weather just about perfect. So why dine in when you can eat out? Here are 13 of our favorite places to picnic in Hawaiʻi. (FYI: It's illegal to drink alcohol in any public park or on any public beach.)
Hoʻomaluhia Botanical Garden, Oʻahu
The city runs five botanical gardens on Oʻahu, and Hoʻomaluhia Botanical Garden on the island's Windward Side is the largest, sprawling over 400 lush acres. Open in 1982, this rainforest garden boasts plants and botanicals from all over the world, including Africa, India, Sri Lanka, Polynesia and the Philippines. There's also a 32-acre lake, walking trails and campgrounds—plenty of room to find a spot to picnic. In the summer it hosts twilight concerts—from 5 to 6 p.m.—with live music.
Kailua Beach Park, Oʻahu
You can picnic at just about any beach on Oʻahu—Ala Moana Regional Beach Park, Sandy Beach, Yokohama Beach—and you won't be disappointed. But we love Kailua Beach for a few reasons. For starters, it's a huge beach, stretching more than 2.5 miles long. So there are a lot of places where you can lay out a beach mat or picnic blanket without being right next to someone else. The beach park also has a parking lot with restrooms, showers and lifeguards; you can also find street parking along Kalaheo Avenue and get to other parts of the beach via public access paths. It's close to Kailua Town, with a variety of eateries and grocery stores—in case you need to grab some last-minute food or drinks. And finally, with its aquamarine waters and super-soft sand, you'd be hard-pressed to find a more gorgeous beach on Oʻahu.
Puʻu ʻUalakaʻa State Wayside, Oʻahu
About 5 miles from Waikīkī, Puʻu ʻUalakaʻa State Wayside is a quiet park at the top of Puʻu ʻŌhiʻa, or Mount Tantalus, with amazing panoramic views of southern Oʻahu, from Lēʻahi (aka Diamond Head) to Pearl Harbor. You have to take the winding Roundtrop Drive to get there, which is part of the experience. The park is open from 7 a.m. to 7:45 p.m. daily. There's a nice grassy area, perfect for picnics, and a short trail—ʻUalakaʻa Loop Trail—starts here, too.
Lyon Arboretum, Oʻahu
The 200-acre Lyon Arboretum is tucked away in the back of lush Mānoa Valley, just 5 miles from Waikīkī. The park—which is open from 9 a.m. to 3 p.m. weekdays only—features over 7 miles of hiking tails and more than 6,000 kinds of tropical and sub-tropical plants. There's an area called Inspiration Point—it's a short uphill walk there—with a large grassy area for picnicking and great views of the park. Admission is free, but you do have to make reservations online.
Kula Botanical Garden, Maui
Located on the slopes of Halakalā on Maui, the 8-acre Kula Botanical Garden is a privately owned garden that opened in 1971. Wander around the plants, waterfalls and aviary, and find a nice spot for a picnic lunch. There are restrooms and a snack shop, too. Admission is $10 for adults, $3 for kids 6 to 12. The garden is open 9 a.m. to 4 p.m. daily.
Harold W. Rice Memorial Park, Maui
Also in Kula is the 3.8-acre Harold W. Rice Memorial Park, a popular hillside park for local families—and one of the best picnic spots with stellar views of the West Maui Mountains and the coastline. The park has nine picnic tables and a bathroom, and nearby Kula boasts charming bistros, delis and Pukalani Superette for all of your picnic needs. (Plus, Kula Country Farms, with its farm stand and fresh strawberry lemonade, is practically next door.)
Hoʻokipa Beach, Maui
Want dinner (or lunch) with a show? Hoʻokipa Beach on Maui's northern shore is one of the most popular beaches on island for surfing, windsurfing and kitesurfing. The park has three pavilions—perfect for picnics—and barbecue grills. Stop by nearby Pāʻia to pick up lunch and snacks, and enjoy the views.
Kepaniwai Park Heritage Gardens, Maui
In Wailuku, this public park, adjacent to the Wailuku Stream, opened in 1952 to celebrate the various cultures that contribute to modern Maui. It has eight picnic pavilions, with barbecue pits and grills, and two uncovered picnic tables alongside the stream.
Salt Pond Beach Park, Kauaʻi
Near the charming town of Hanapēpē is Salt Pond Beach Park, a hidden gem of a beach that's popular with locals. Find a quiet spot on the golden sands or grassy areas to picnic. (There are restrooms and showers, too.) It's also a safe beach for kids, with lifeguards and shallow tide pools to explore.
Poʻipū Beach Park, Kauaʻi
One of the most popular beaches on Kauaʻi—and for good reason!—Poʻipū Beach on the island's sunny south shore has everything you could want (and need) in a beach: expansive golden sands, crystal-clear water, lots of parking, restrooms, showers, lifeguards. There's even a playground nearby. Find a spot on the beach or under a shady palm tree, or nab one of the picnic tables here, and enjoy the gorgeous scenery. (You might even spot a Hawaiian monk seal.) Shops and eateries are within walking distance.
Hanalei Bay, Kauaʻi
One of the most picturesque places on Kauaʻi, Hanalei Bay is composed of three different beaches: Waiʻoli Beach Park, Hanalei Beach Park and Black Pot Beach—all of which make for great picnic spots. The latter—Black Pot Beach—is next to the historic Hanalei Pier, a favorite gathering spot for locals. Because of its size—nearly 2 miles long—you can find a secluded spot anywhere along the crescent-shaped bay. Parking can be challenging, but the sweeping views of the ocean and the verdant mountains in the distance are worth it. Nearby Hanalei Town has shops, cafés, eateries and bakeries for your grab-and-go needs.
Queen Lili'uokalani Park and Gardens, Hawaiʻi Island
Dedicated in 1917, the Liliʻuokalani Gardens in Hilo is the largest authentic ornamental Japanese garden outside of Japan. It's located along Banyan Drive, adjacent to a handful of hotels along Hilo Bay. There are so many places to picnic in this peaceful, 24.67-acre garden, a tribute to the first Japanese immigrants to the Islands. There are bridges over koi-filled fishponds, pagodas, rock gardens and a teahouse. Plus, the views of Hilo Bay, Mokuola (Coconut Island) and Mauna Kea (on a clear day) are incredible.
Hāpuna Beach Park, Hawaiʻi Island
Hāpuna Beach on Hawaiʻi Island—about 30 miles north of Kailua-Kona—is the biggest sandy beach on the island, stretching for half a mile. Though it's a popular beach for residents and visitors alike, it never feels too crowded. The state park is open from 7 a.m. to 6:45 p.m. daily, and it costs $5 for non-residents (free to Hawaiʻi residents) to enter. Parking is another $10 per car. There are food vendors, picnic areas, restrooms, showers and lifeguards.
Credits and Resources
Catherine Toth Fox. "13 Best Places to Picnic in Hawaiʻi". Hawai`i Magazine. June 22, 2023.